Welcome to the
Rocky Ridge Royal Oak Community Association!

Rocky Ridge Royal Oak Community Association is a small group of volunteers who
meet regularly and work constantly to:
tackle and fix residents' concerns
review and adjust development applications
watch out for environmental concerns
year-round operation and maintenance of RRROCA park
run children and community based programs
provide insurance for supported sport and area usage activities
communicate area and city issues to the residents
represent the community to the outside world
communicate with the Ward 1 Councillors, the Member of the Legislature of Alberta,
and with the Member of Parliament.

Please note that the City communicates overall area issues directly with the Community Association and does not necessarily recognize residents associations as the "voice" of the people.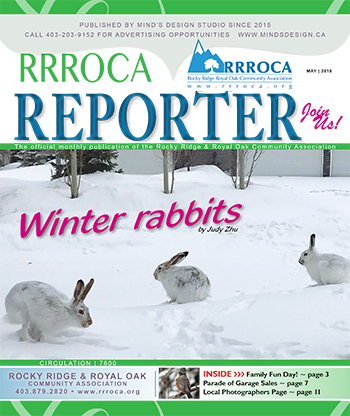 RRROCA 4th Annual Community
Parade of Garage Sales
This year the date for this community participated event
is set for May 25th, 26th & 27th!

Please register on line HERE – Registration ends on May 21st at 9:00 pm!

Please note: registrants can pick up Garage Sale signs between 4:30 – 6:00 pm on Wednesday May the 23rd at William D. Pratt school located at 9850 Royal Oak Way NW (Front parking lot).

Come and find trinkets and treasure without leaving the neighborhood.

Hours for the garage sales:
– 3pm to 8 pm on Friday
– 10am to 5pm on Saturday & Sunday

This vibrant community building event is sponsored by Zeena Taghvai Real Estate Agent of RE/MAX Real Estate Mountain View!
She is providing garage sale signs to registrants, she will also have garage sales signs posted in certain spots in both neighborhoods marked with a special directional signs.
Zeena will also have 5 large bold signs placed in different areas surrounding Rocky Ridge/Royal Oak to draw public attention to the event, in order to bring more traffics/people/shoppers to the neighborhoods during the event, as a result participants will have much success in selling their items. Zeena will also place an ad in Calgary Herald about the event a day prior to the event as well as for the duration of it.

Check back soon for the map of participating homes see link below – we will add new participants daily before the registration deadline, which is 9:00 pm on May 21st, 2018!

We hope to you see you out shopping in both neighborhoods.
Questions? Please contact us at events@rrroca.org

CLICK HERE TO DOWNLOAD A LIST OF GARAGE SALE LOCATIONS