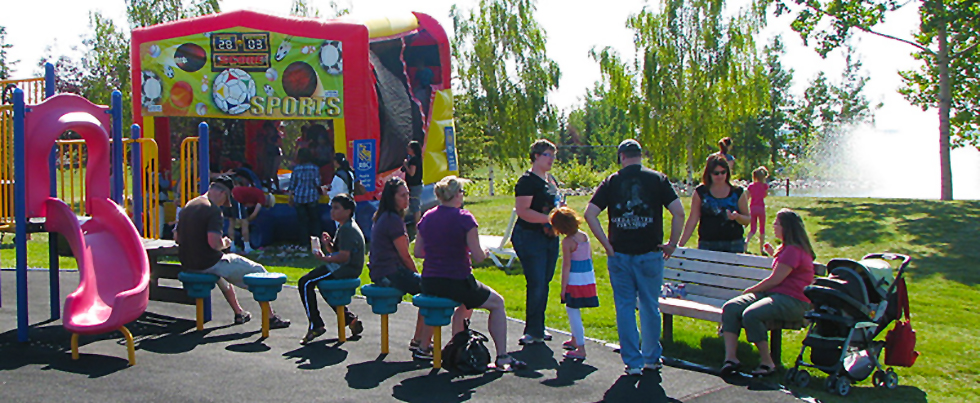 Block Party Ideas

Great neighbourhoods make great cities. A neighbourhood block party is an opportunity for people to meet and get to know each other. The focus is on having fun but some communities find it a great way to work together on a neighbourhood project.

Download a Block Party Guide HERE! (PDF)

Benefits of Block Parties
HAVE FUN!

Meet your neighbours and make new friends

Re-establish old friendships

Increase the sense of belonging to a community

Encourage neighbours to look after each other and the neighbourhood

Promote safety and help prevent crime by looking out for each other and recognizing faces

Increase security by knowing your neighbours' schedules

Learn about your community history
To help plan your block party, RRROCA offers resource information, advertising assistance as well the option of using our community activity bag(s) which contain a variety of sports balls, and other fun games such as bean bag toss, parachute, tug of war, etc. These activity bags can be reserved for your party (based on availability) and are free!

We are hoping to see a continued interest in hosting block parties. It is a great way to get to know your neighbors and to have some fun during the summer months.
To reserve an activity bag for your block party or if you have general questions, please email: safety@rrroca.org
Block Party Tips
When planning a block party there are a lot of things to think about. Here are several suggestions you may want to use to make your block party a great success!

Use a large driveway, yard, or nearby green space to avoid closing off the street (or plan on obtaining the necessary permits from the City of Calgary).

Visit the City of Calgary website (

www.calgary.ca

) or call 3-1-1 for additional information.

Decide what you plan on providing & what your neighbours can bring (lawn chairs, food, drinks)

Select a date and time for your party that will work well for you as the host.

Prepare activities for the children on your block to play, or delegate this to someone else. SEE IDEA SECTION BELOW!

Once you've settled on your party details, prepare invitations and deliver them to your neighbours.

HAVE FUN!!!!
Block Party Fun Ideas
Watermelon eating contest, pie eating contest

Sidewalk chalk drawing

Sprinklers, water balloons, water guns, slip n' slide, kiddie pools

Visits from firefighters or police, with tours of the fire truck or police car.

Face painting, temporary tattoos

Block Scavenger Hunt

Hula hoop or limbo contest, tug–of-war

Look for neighbours with musical talent to informally entertain

Relay races (i.e. egg on spoon, three-legged race, potato sack race, etc.)

Beanbag toss, bocce ball, crocket, badminton, Frisbee

Piñatas

Jelllybean guessing jars

Bicycle decorating and parade

Bubble blowing

People Bingo

Obstacle course (made out of stuff from your garage or basement!)

Petting zoo

Inflatable jumping structure

You could choose a theme (i.e. Hawaiian Luau with beach balls, tiki torches, and flip flops)

Having a potluck makes the food portion of the party more manageable!

Prizes for all the kids (Dollar Store items are great!)

Rewards for the kids that help pick up garbage at the end of the party!

Name tags for all guests will help neighbours to get to know one another.
There are TONS of websites that will provide you with further guidance for planning games and fun activities!!!