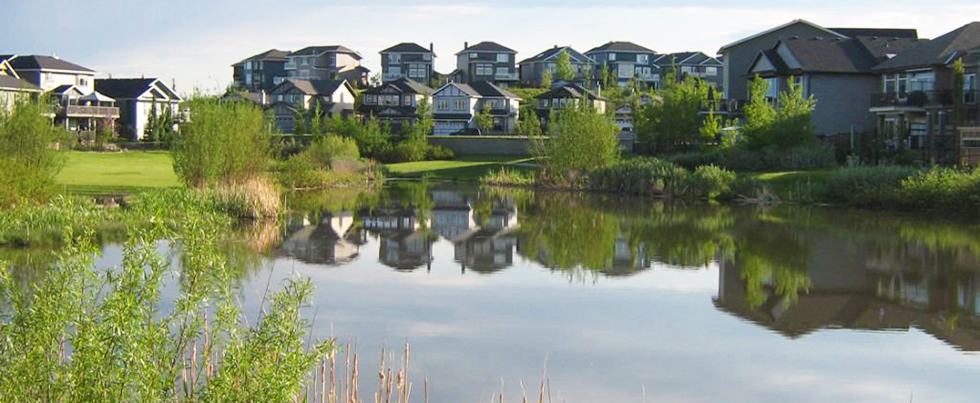 Community
The Rocky Ridge and Royal Oak community located in Calgary northwest was established in 1989. The community has grown to over 17,000 residents over the years consisting of three homeowner associations and one community association (RRROCA).
The community landscape is unique with several environmental sensitive wetland ponds throughout the area. The local Royal Oak school received an award from Ducks Unlimited for the special education program pertaining to wetlands.
The community is connected through a pathway system that winds around the wetlands and offers spectacular views of the Rocky Mountains. The residents are truly dog lovers, boasting the most dogs per capital in Calgary. RRRO offers many options for living from single housing dwellings, condos, retirement residents to townhomes.
There are several local places of worship in the community; Northwest Family Church, The Church of Jesus Christ of LATTER-DAY Saints, and it may casually be called the MORMON TEMPLE. A large portion of our residents are young professionals and are very social media centric. In the near future, the northwest LRT station will be opened in fall 2014 and the Rocky Ridge Recreation Center in 2017.
Community Social Statistics
Rocky Ridge – http://www.calgary.ca/CSPS/CNS/Documents/community_social_statistics/rocky_ridge.pdf
Royal Oak – http://www.calgary.ca/CSPS/CNS/Documents/community_social_statistics/royal_oak.pdf
Something regal about Royal Oak
By: RICHARD WHITE (THE WHITE HOUSE)
It a recent dinner party, I had an interesting conversation with 30-something professional couple Tamara McCarron and Geordie MacPherson about the suburban-urban debate. As they lived in Royal Oak in the city's northwest, I was keen to learn about suburb living in Calgary and why people love living there.
I first learned that Royal Oak is not actually that new — the community was annexed from Rocky View County in 1989. McCarron and MacPherson moved there 12 years ago, excited by the opportunity to have a decent-sized house with easy access for McCarron to get to the University of Calgary (12 minutes by car and cycleable). For MacPherson, the downtown express bus took only 30 minutes.
They both loved the fact it was an easy recreational bike ride into the pastoral farm land just to the north. They loved the marshes and wildlife of the country, as well as how the dark skies allowed them to see the stars.
At first, they admitted, the amenities were minimal. Today, however, they can walk to Sobeys, Starbucks, Second Cup, Walmart, London Drugs, Smash Burger or The Rock (their favourite new hangout — a pub/pizza place).
They also enjoy easy access to bike paths and an open field with its new community garden. When I asked why they chose Royal Oak and not a funky condo downtown, both agreed they wanted something affordable, a de-cent size and not a fixer-upper. And they wanted to be able to escape to the country and see the mountains.
McCarron and MacPherson said that over the past 12 years, the community of 10,979 residents has evolved. Both like the community's mixed-income diversity where pro-fessionals and non-professionals intermingle with families and retired couples. According to the City, the community has a higher-than average visible minority population at 30 per cent because the community is popular with new immigrants, especially from China, Pakistan, South Korea and India.
Yet while McCarron and MacPherson praise their community, they both admit they would like to see more ethnic restaurants.
If Calgary is to attract and retain young professionals from Canada and around the world, we will have to provide not just great urban villages, but also great suburban villages that include a connection to nature. One size won't fit all.
Richard White can be reached at: richard@ground3.com
Follow him on Twitter: @everydaytourist
Useful links
Good Neighbour Reference Guide
City of Calgary By-Laws
Community Neighbourhoods Summer Programs